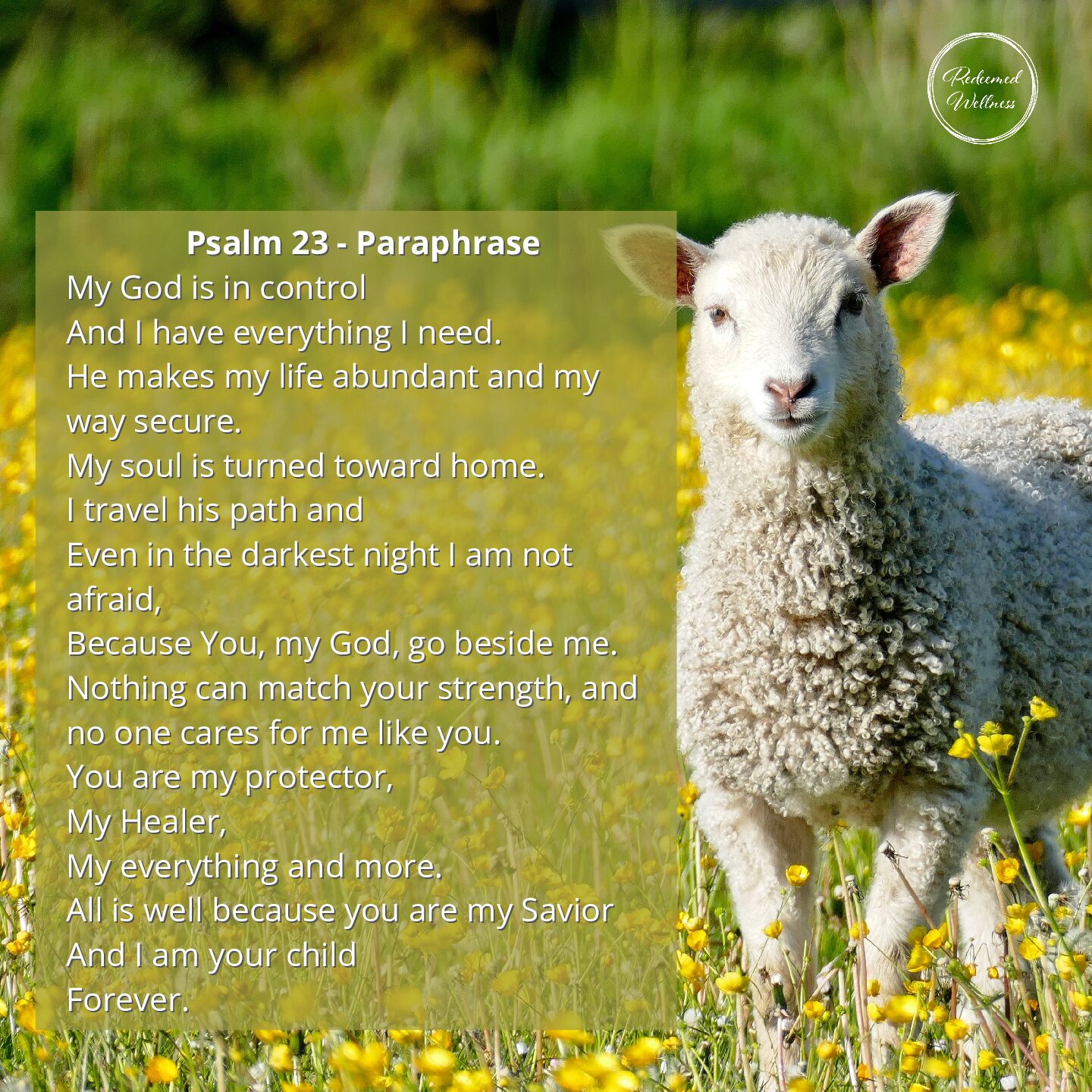 My God is in control
Psalm 23
A psalm of David.
1 The Lord is my shepherd, I lack nothing.
2     He makes me lie down in green pastures,
he leads me beside quiet waters,
3     he refreshes my soul.
He guides me along the right paths
    for his name's sake.
4 Even though I walk
    through the darkest valley,
I will fear no evil,
    for you are with me;
your rod and your staff,
    they comfort me. 
5 You prepare a table before me
    in the presence of my enemies.
You anoint my head with oil;
    my cup overflows.
6 Surely your goodness and love will follow me
    all the days of my life,
and I will dwell in the house of the Lord
    forever.
~When our world around us is in chaos, our good and kind shepherd makes us lie down in green pastures and leads us to rivers of rest.  Jesus tells us to rest in Him because on our own we are prone to continue to do things in our own strength.  The Lord knows exactly what we need and when we need it.  We can trust that he is working and we can trust that we are secure in Him. We can rest  because we know that He is with us.
~God uses His word to renew, restore and revive.  His word give us life.  Even in the midst of uncertain circumstances the Lord can restore and refresh us. And He can give us peace because He is with us.  We can be confident that even in the wilderness God will restore and refresh our souls.
~God's rod and staff remind us that He is all powerful and that He guides us and corrects us.  The same way a shepherd uses his rod to ward off enemies, God fights off our enemies.  And just like a shepherd uses his rod to guide the wayward sheep back on the correct path, God corrects us when our hearts wander away from Him.  The staff was used again and again to rescue the sheep from any danger they wander into. Our good Shepherd does the same for us, he draws us close to himself.  We can find comfort in the rod and the staff because they reminds us that the Lord leads us in the way we should go.
~God prepares a table for us.  A place of great joy even in the midst of our enemies.  The enemies have not disappeared, but because of who our God is we can rest and rejoice, and have peace and joy right in the presence of our enemies.  Our joy is dependent on our savior NOT our circumstances.  We can eat and we can overflow with joy in the midst of struggles because we know that our God is greater than anything we may face in this life.
~God's goodness and love follow us everywhere we go. One day when we look back over our lives we will see that God's goodness and love followed us everywhere.  We may not understand it all now but when we look at our lives from God's perspective we will see that even in the struggle, in the things that felt hard and bad God was working them out for our good.  His ways are only ever good towards us.
~Someday we will spend eternity in the presence of God and we will worship Him for who He is and all that He has done for us.  On that day we will look back and see God's faithfulness.  We will see His goodness, His mercy and His love.
I will leave you with a paraphrase of Psalm 23
Paraphrase:
My God is in control
And I have everything I need.
He makes my life abundant and my way secure.
My soul is turned toward home.
I travel his path and
Even in the darkest night I am not afraid,
Because You, my God, go beside me.
Nothing can match your strength, and no one cares for me like you.
You are my protector,
My Healer,
My everything and more.
All is well because you are my Savior
And I am your child
Forever.