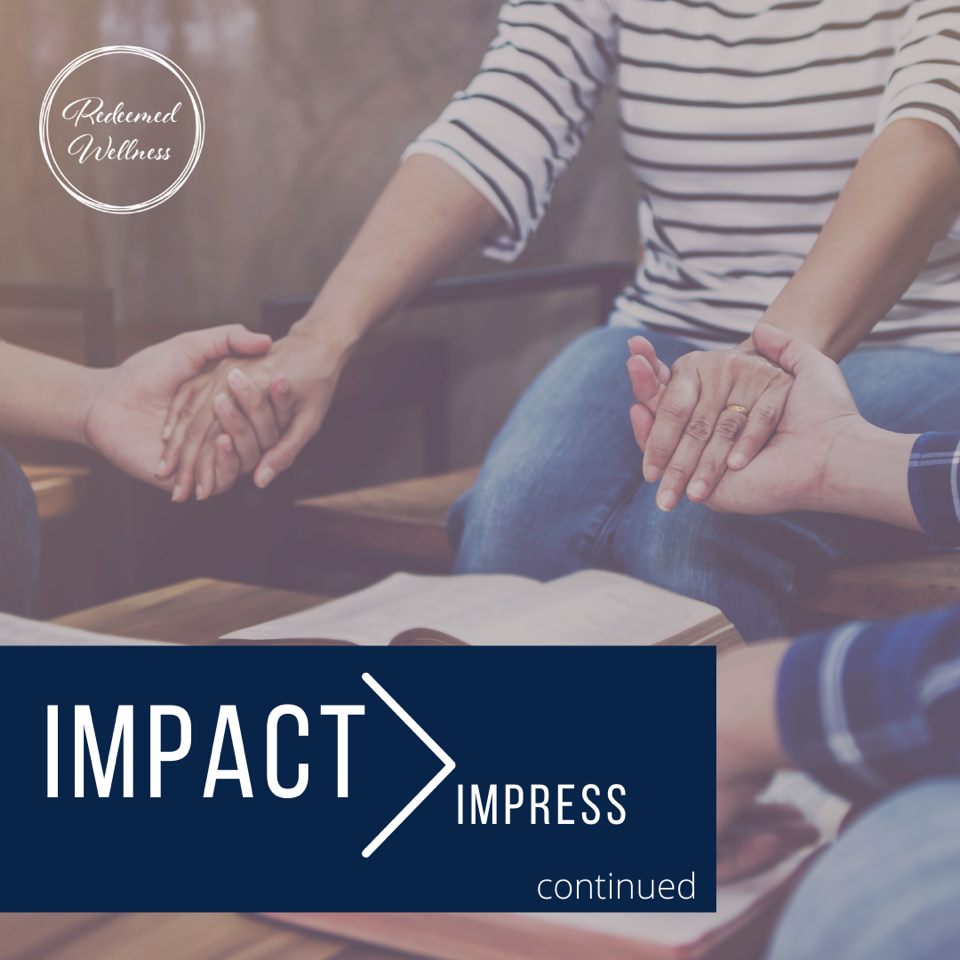 Impact > Impress…continued
In kingdom work the goal is for the world to know God not you or I.  What is Kingdom Work?  It is using your gifts, talents and abilities to the Kingdom of God.  It's everyday intentionally looking for moments to bring God glory.  Making Kingdom impact is when you take whatever God has given you, whether it is a talent, a circle of influence, a relationship or an opportunity at work or school to advance the message of Jesus Christ.  It is to make Christ known.
When we look at the life of John the Baptist he lived this out so well. He had basically one message; he called people to repentance for their sins and he promised the Messiah was coming after him. He never attempted to impress or manipulate, he was driven by obedience and following the call on his life. When we follow the calling God puts on our life it is to draw people to Christ not ourselves.  We can allow the Holy Spirit to work through us to reach people but the goal is not to gain more accolades for ourselves.
When Jesus entered the story John's disciples were worried that his ministry was decreasing but as the people shifted from following John to following Jesus, he knew his ministry had been effective.   He said he must increase, but I must decrease in John 3:30.  John's goal was always to point people to Jesus.  It is great to have a large sphere of influence or in the social media world to have a lot of followers but what are you doing with your "platform"?  Like I said in last month's devotional, I don't ever want to impress people.
As I am sitting here writing this a questions popped in my mind…
If I were to die today, what would people say about me? Am I living in a way that I will leave a positive impact on the people I encounter?
When I really sit and think about this question, a lot of different things ran through my mind.  I want to live in a way that people would say I am kind, honest, strong, welcoming and loved Jesus.  Ultimately I want to be known as someone who LOVED well.  For me to truly love well I need to allow Jesus to work through me.  In all my humanness not matter how well I love on my own I will always fall short.  But when I see people through the eyes of Jesus and submit all my ways to him He will show me how to LOVE well.  I want to love people in a way that they know that the Lord loves them.  I want them to walk away from me feeling believed in, encouraged, built up and LOVED!  More importantly than them knowing I love them I want them to know that Jesus LOVES them.  I truly want someone to walk away and forget my name but know who Jesus and how much he loves them.
Therefore encourage and comfort one another and build up one another, just as you are doing. 1 Thessalonians 5:11
If you were to die today, what of you want people to say about?  Are you living in a way that these things would be true?
Blessings, Cheryl